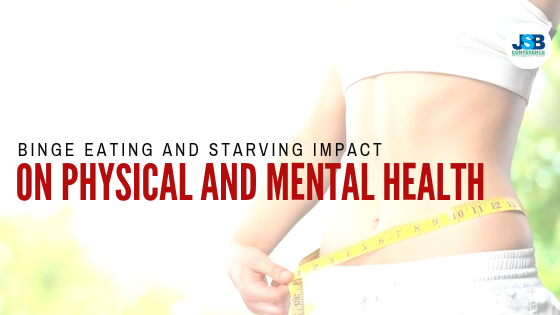 The recent trend of having a skinny body to be able to look attractive has had a negative impact on many. The increased pressure caused by social media and the fashion industry on young men and women has led to the development of eating disorders. The overall image of health has been portrayed wrongly before a naive crowd.
The trend of being skinny has pushed many young people into various types of mental health issues including eating disorders, anxiety, anorexia, body dimorphism, depression and many more.
Anorexia is one such eating disorder that has two major types: the binge and purge type and the restricting type. The restricting type tends to starve itself till it reaches an unhealthy skinny frame. The other more common type tends to overeat first then feel guilty and starve and exercise on an empty stomach till they feel sick and hungry and overeat again.
There is a plethora of physical symptoms or effects of this habit. The physical signs include Extreme weight loss, Thin or malnourished appearance, abnormally low blood counts, fatigue/ muscle weakness, sleep problems, dizziness, fingers turning bluish in complexion,thinning and damaged hair,irregular menstruation, abdominal pain,yellowish skin, dry flaky dull skin,vulnerability to cold temperatures, low blood pressure and many more.
A nature genetics paper states that 0.4- 4% of women suffer from anorexia while 0.3% of men are affected by it.
Anorexia tends to create a distortion in the perception of the individual who is suffering. They have a tendency to see themselves as heavier than they are in reality. This includes looking into the mirror and finding body parts out of proportion and swollen. The body is unable to receive the nutrition it requires to perform day to day functions.
Calorie intake tends to become so low that the energy produced in the body is not enough to regulate body temperature causing problems like hypothermia. Sufferers develop a very low tolerance for cold. Inadequate food intake also causes less oxygen to flow through the blood, giving rise to fatigue and low blood pressure and fainting.
People seeking recovery from Anorexia are advised to turn to eat disorder treatment experts. A team of a nutritionist, physician, and therapist can bring about expected effective results. The treatment that is given through such a team typically consists of three required components:
Medical: If there's any serious health issue resulting from the eating disorder behaviors, the medical method addresses it. This can include factors such as malnutrition, unstable heartbeat, amenorrhea or electrolyte imbalance. Researchers are still exploring the ways they address every concerned disorder in a better manner.
Nutritional: A tailored meal plan for weight restoration, implementation, and other such factors are involved in the nutritional component. It further involves education about normal eating patterns and supervision by the healthcare expert.
Therapy: This is one of the important parts of treatments as the healthcare experts try to find the issues underneath. It addresses key factors affecting due to eating disorders such as traumatic life events and helps the patient learn healthier coping skills for further development.
The upcoming International Conference on Public Health and Nutrition discusses such various issues associated with binge eating, starving and how the disaster duo affects overall health and nutrition of people.