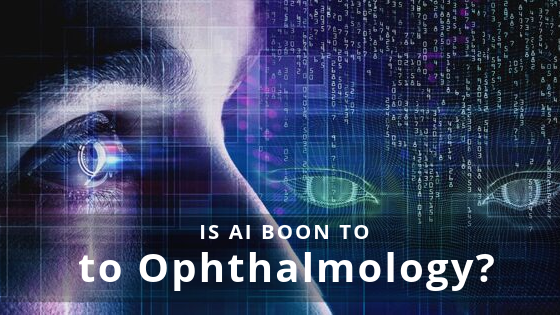 Artificial Intelligence(AI) is playing a significant role in the industry and is applicable in most of the sectors. With the increasing number of visual problems, artificial intelligence has a lot to offer in the eye care sector as well. AI has a crucial role in the diagnosis and treatment of ophthalmic disease.
A recent study suggests that AI has played an immense role in the identification of diabetic retinopathy. Researchers said that AI has matched the performance to diagnose diabetic retinopathy the same as done by the expert. In fact, it has succeeded more than expected. It recognized the attributes from images that might indicate disease, of which the software was not even programmed. AI on itself figured out by simply looking at other thousands of diseased and healthy eyes.
Artificial intelligence is the science that deals with computer algorithms, programs, and codes to learn, analyze, identify and interpret data. AI is assumed to perform better than humans, especially in image recognition.
Similarly, another research was conducted to detect glaucoma and VF loss with a visual field analysis. Usually, the detection of glaucoma takes time due to anatomical changes. If the disease is detected at an early stage then it will help to curb vision loss. Here came the innovation of an AI-based system to recognize patterns of visual field changes to detect the accurate problem and reduce time to identify it. This machine learning-based pattern was very effective in recognizing 25% to 50% of the eyes indicating VF loss than any other method.
Scientists are finding more ways to incorporate artificial intelligence in eye care. They are aiming to use machine-learning techniques and algorithmic assessments to change the perspective of the eye care industry.
AI has also paved its way to give a new outlook to eye charts. The eye chart is dated back to the 19th century, has very low precision to detect vision ie. reading of the smallest letter. Due to its single dimension, it can prove insufficient to indicate vision loss or other changes in vision. The recent developed hardware/software platform is an algorithmic framework that executes active learning algorithms on a digital screen to rationalize the evaluation of human vision.
Zhong-Lin Lu, a chief scientist at New York University Shanghai is of the view that AI unified with neuroscience can help in testing vision better than an eye chart. He also said that AI can help in personalized aid services by using active learning principles to find an individual patient reaction and then modify the treatment accordingly.
AI and Machine Learning applications have proven beneficial for the eye care sector. When it comes to health-related disorders, proven results are a must. AI has stood to show its full potential in intelligent diagnosis in Ophthalmology.
The upcoming conference on 22nd Asia Pacific Ophthalmologists Annual Meeting will have discussions on the latest technological advancement related to eye vision in 2023.